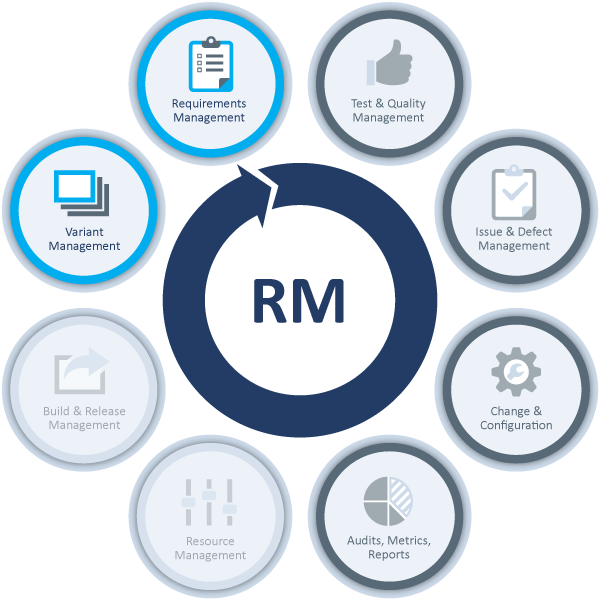 Full Functionality


Solution-related Functionality


Upgrade option to ALM
Polarion
®

REQUIREMENTS

™
The Unified Requirements Management Solution
Effectively plan, orchestrate and track requirements for complex software, product, and embedded systems throughout the lifecycle and across projects, to advance business objectives while staying compliant in today's fast-paced environments.
Everything You Need to Accelerate Collaboration
Get teams started out-of-the-box with templates that are easily customizable and have proven to accelerate collaboration for our customers.
Patented technology supports the easy import of existing requirements as well as external collaboration and review, while everything is connected through multi-directional traceability to enable compliant reuse, variant- and change management.
Immediate Value to Your Organization:
Exchange data with suppliers via industry standards ReqIF, RIF
Get up and running quickly with best practice workflow templates
Drive adoption through easy-as-Word, patented Polarion LiveDoc™ functionality
TRY NOW
SCHEDULE DEMO
Success Story: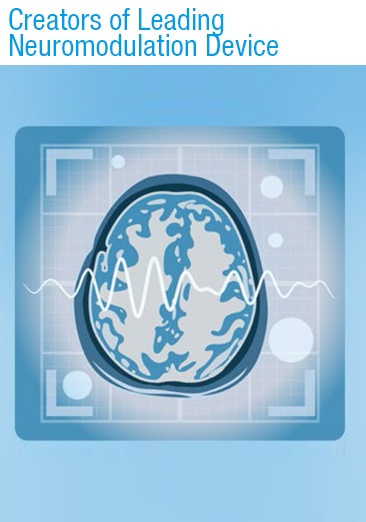 Data Sheet: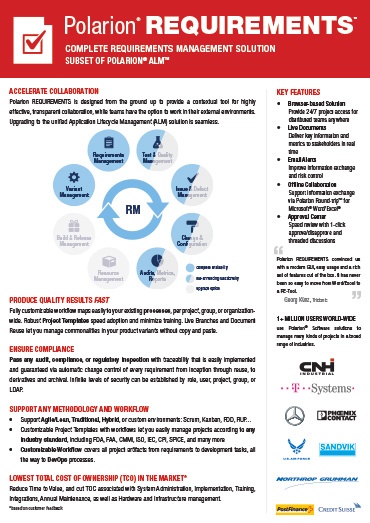 White Paper: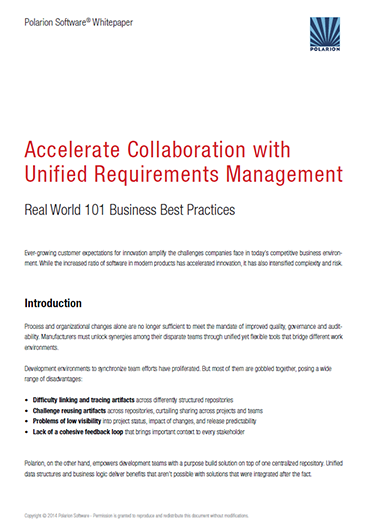 On-Demand Webinar:
Requirements Management Made Simple - 5 Easy Steps
Agile Requirements Management - Efficient & Effective Collaboration
Solution Highlights:
Optimize Collaboration and Productivity:
Improve Quality, Integrity and Compliance:
Accelerate Time-to-Market for Your Innovation:
Benefit from the above plus accelerate release frequency via DevOps & Continuous Delivery
Leverage out-of-the-box integrations and open APIs via Connectors & Extensibility
Use native clustering for load balancing and failover via Enterprise Performance & Scalability
Keep your TCO* low via Reduced IT Cost and Support and Effective Licensing
*Lowest Total Cost of Ownership (TCO) per customer feedback
See REQUIREMENTS Benefit Details
"New software projects at T-Systems start with a standardized T-Systems (project) template in Polarion. But teams can customize every project taking into account the requirements of their customers, or how their development environment is set up. We believe that the balance between standardization on the one hand, and individual requirements on the other is perfectly achieved by Polarion."
Dr. Markus Liebelt, T-Systems International
"Using Polarion solutions, we are better able to handle the product development process end-to-end, including all documents needed in our complex and cross-linked development systems. Major benefits for us include the automated traceability, impact analysis and suspect link traces fully unified with change and version management. The biggest benefit for WaveLight is the ease of reuse (of artifacts such as Requirements) across different projects."
Werner Motzet, WaveLight
Solve and Evolve Based On Your Needs
Solve specific challenges with one or a mix of Polarion's products built ontop of the unified Polarion Platform to accelerate collaboration, integrity and innovation, with the option to seamlessly evolve in steps with growing organizational demands.
Polarion® ALM™
The Unified Application Lifecycle Management Solution
Learn More
Polarion® REQUIREMENTS™
Complete Requirements Management Solution
TRY NOW
Polarion® QA™
Complete Test and Quality Management Solution
Learn More

Polarion® ALM™
Polarion® REQUIREMENTS™
Polarion® QA™
Polarion® ALM™
The Unified Application Lifecycle Management Solution
Learn More
Polarion® REQUIREMENTS™
Complete Requirements Management Solution
TRY NOW
Polarion® QA™
Complete Test and Quality Management Solution
Learn More