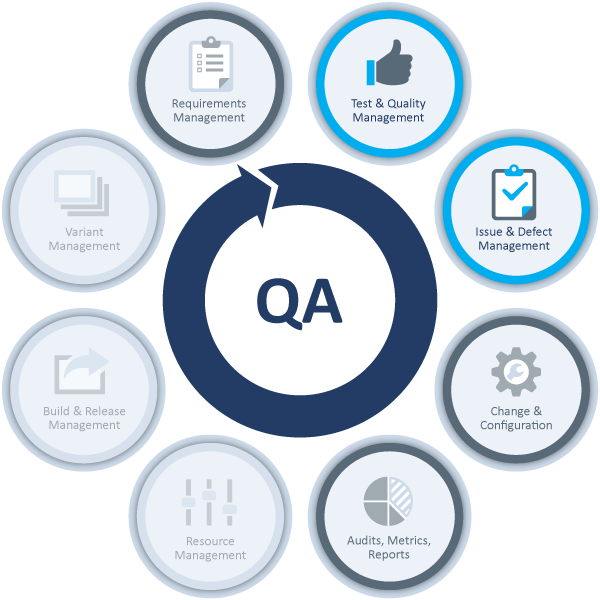 Full Functionality


Solution-related Functionality


Upgrade option to ALM
Polarion
®

QA

™
The Unified Test and Quality Management Solution
Effectively coordinate and track all your test management activities with real-time visibility throughout the development lifecycle as well as across projects, so you can assure quality earlier, faster and comprehensively in today's fast-paced, complex environments.
Everything You Need to Accelerate Integrity
Leverage the flexibility of the unified tool for any type of testing methodology and team. Small teams benefit from rapid organization in one environment. Enterprises QA departments can run unlimited numbers of projects adhering to very structured testing cycles, and combined with a lot of automated and/or manual testing activities, and keep everything in sync via multi-directional traceability.
Get teams started out-of-the-box with templates that are easily customizable and have proven to accelerate integrity for our customers. Seamlessly integrate test automation tools and processes, while centralizing all work items in one data repository with multi-directional traceability to assure quality and please regulators.
Quickly meet all test management needs, with the option to evolve via seamless combination of Polarion's configuration options when organizational needs and complexities grow.
Immediate Value to Your Organization:
Templates get you up and running quickly with minimal configuration
Key Integrations for Testers by Testers for comprehensive test management
Fully integrated Requirements Management
TRY NOW
SCHEDULE DEMO
Success Story: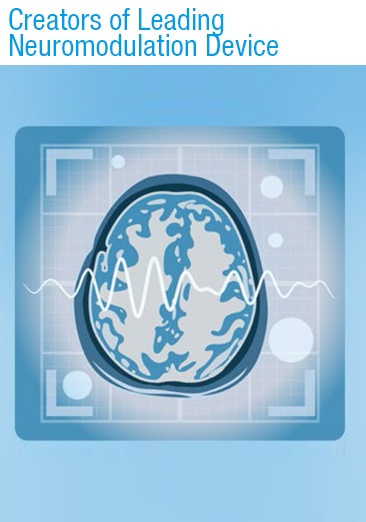 Data Sheet: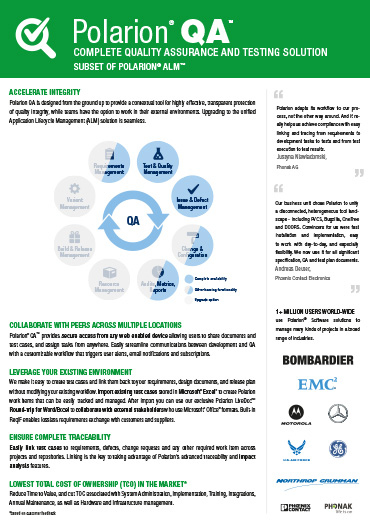 White Paper: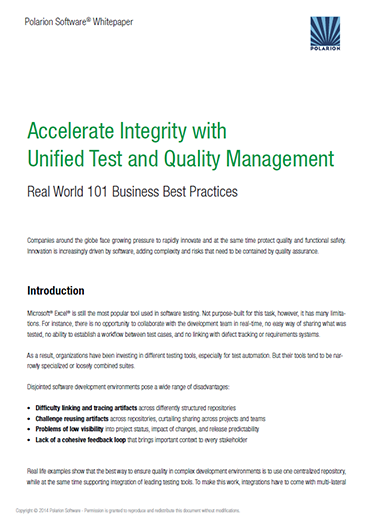 On-Demand Webinar:
5 Easy Steps to Accelerate and
Improve Your QA and Testing Processes
Centralized Test Management Benefits:
Effectively Specify, Manage, Execute and Track Test Cases Collaboratively In One Environment:
Collaborate and track all testing activities across software and product testing projects, teams, tools and locations throughout the lifecycle of your software or product.
Easily create or import test cases from a wide variety of 3rd party apps, and link them to corresponding work items for comprehensive lifecycle traceability.
Fully automate the running of test scripts and report results as well as create tasks for developers based on test failures, using workflow triggers.
Manage quality across testing projects, teams, tools and locations throughout the lifecycle and review results from any browser-enabled device anywhere anytime.
Bi-directionally synchronize test cases between Excel® as well as HP® Quality Center® and Polarion.
Leverage real-time reporting capabilities as well as automated notifications, so stakeholders can rapidly make data-driven decisions positively affecting business outcomes.
Automate Test Case integration with 3rd party testing tools via Open API, auto-run via Builds, import-ready for any test results in xUnit file format.
Gain real-time visibility into dynamic workflows: Changes made to Requirements – affect Development and Test Cases – Source Control etc., and notifications enable teams to adjust faster, fix issues earlier, respond rapidly and in context, and ultimately deliver higher quality.
Solution Highlights:
Optimize Collaboration and Productivity:
Improve Quality, Integrity and Compliance:
Accelerate Time-to-Market for Your Innovation:
"Our business unit chose Polarion to unify a disconnected, heterogeneous tool landscape - including PVCS, Bugzilla, OneTree and DOORS. Convincers for us were fast installation and implementation, usability, and especially flexibility. We now use it for all significant specification, QA and test plan documents."
Andreas Deuter, PHOENIX CONTACT Electronics
Solve and Evolve Based On Your Needs
Solve specific challenges with one or a mix of Polarion's products built ontop of the unified Polarion Platform to accelerate collaboration, integrity and innovation, with the option to seamlessly evolve in steps with growing organizational demands.
Polarion® ALM™
The Unified Application Lifecycle Management Solution
Learn More
Polarion® REQUIREMENTS™
Complete Requirements Management Solution
Learn More
Polarion® QA™
Complete Test and Quality Management Solution
TRY NOW

Polarion® ALM™
The Unified Application Lifecycle Management Solution
Learn More
Polarion® REQUIREMENTS™
Complete Requirements Management Solution
Learn More
Polarion® QA™
Complete Test and Quality Management Solution
TRY NOW

Polarion® ALM™
The Unified Application Lifecycle Management Solution
Learn More
Polarion® REQUIREMENTS™
Complete Requirements Management Solution
Learn More
Polarion® QA™
Complete Test and Quality Management Solution
TRY NOW