Functional Safety in ISO 26262, Automotive SPICE,
and CMMI Compliance:the Fast Lane
Polarion Automotive Solutions for OEMs and Suppliers
Your Challenges:
Must achieve compliance with diverse standards and regulations including Automotive SPICE, ISO 26262, CMMI, etc.
Manage the complexity inherent in "embedded software" and
"mechatronics" development
Control and automate project workflows, support ever-increasing
model variants
Manage quality, mitigate and manage risk - in key safety functions
and across the board
Reduce time-to-market, respond to shortened parent product lifecycles
and tough competition
Develop innovative new products and solutions faster
and better than competitors
Polarion's automotive solutions
Requirements Management, Quality Assurance, Project Management, Change Management, Impact Analysis, Baselines, Reporting, and much more, all in a single, unified web-based platform solution that´s surprisingly affordable.
Project templates and embedded knowledge to support the integration of functional safety in automotive applications, and compliance with common standards (Automotive SPICE, CMMI and others). Use out-of-box, or customize to your specific requirements.
Automated workflow control (fully customizable), forensic-level traceability linking, and comprehensive automated artifact history with PDF and other outputs to document or report compliance.
Proven in the real world - used TODAY by major
automotive industry customers.
Achieve ISO 26262 compliance with Polarion
for a smooth ride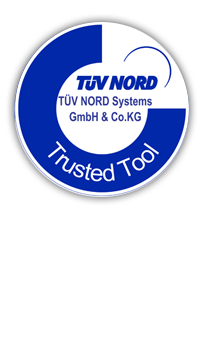 Complexity in the automobile industry´s product design is increasing rapidly, where standards like ISO 26262 are necessary to ensure quality and safety. As the first vendor delivering a full ALM tool qualified for ISO 26262/IEC 61508, Polarion can help improve the speed, quality, and productivity of your time-to-market development.
Key benefits of Polarion´s tools and ISO 26262/IEC 61508 qualification:
Lowering the qualification efforts down to near zero (up to ASIL D/TCL 2 Level)
Help customers to proof compliance of the implemented workflow to the certification body
Having a trusted environment from the beginning of the process, as the Polarion development process was qualified by TÜV NORD
TÜV NORD also qualifies the process of how Polarion handles defects and product enhancements, which is an additional and valuable asset not always provided by tool vendors
On-demand Webinar:
Hazard Analysis and Risk Management according ISO 26262
Get the Template on POP:
ISO 26262 Template - Hazard Analysis and Risk Assessment according to ISO 26262 Part 3

Polarion's Automotive Solutions and You
The increased ratio of electronics and software in vehicles drives innovation in the automotive industry but it also increases complexity and risk. An extremely competitive market and strict regulations force automotive OEMs and suppliers to implement true Quality Management systems for the entire lifecycle of their products. Polarion's automotive solutions combine Polarion ALM with in-depth knowledge of automotive engineering standards and extensive experience with automotive customers and partners, delivered at a compellingly affordable total cost of ownership.
More software means more complexity to manage
The sheer mushrooming quantity of software code introduces a change rate 10 to 100 times higher than traditional automotive hardware engineering, a process shift that means new challenges for automotive OEMs and suppliers alike.
Overall process complexity is growing dramatically as hardware and software development must be married in an embedded software paradigm. Paradoxically, increased costs and time-to-market are rendered unacceptable by a super-competitive marketplace.
Functional Safety: real solutions, not hype
In hundreds of companies around the world, in automotive, aerospace, medical devices, and other industries, Polarion ALM has already proved that it can help teams meet the demands for increased productivity and competitiveness, while reducing overall costs. (Read what real-world customers are saying...)
With Polarion, you don't waste tight budgets on costly point solutions and consultants to make them work together. You get one, fully unified, collaborative, web-based platform that most of our customers get up and running themselves in mere days. Then, secure audit-trails for all development lifecycle artifacts happen as a matter or course as people do their jobs every day, making audit headaches a thing of the past. This, along with fully integrated team communication and collaboration capabilities can help your company achieve compliance with diverse automotive industry standards faster while reducing costs and development time.
Move into the Fast Lane now
Why not take a closer look at how Polarion can move you into the fast lane for improving overall quality, mitigating risk, and achieving (and proving) compliance for ISO 26260, Automotive SPICE, and CMMI?
"Polarion's recent integrations with MATLAB® Simulink®, Klocwork's and others show a real deep understanding for their target markets."
"Polarion´s ISO 26262 qualification will save us a great deal of effort and cost in our own qualification process. We leverage Polarion´s ALM solution across our complete development lifecycle for requirements tracking, release packaging, test results, and full traceability coverage for vehicle hazards ISO 26262."
"We are frequently asked by automotive companies to create and support software processes compliant to ISO 26262. Polarion 26262 templates provide an effective starting point for documentation of 26262 practices – and Polarion´s offers excellent support for traceability and integration with development and testing tools used by other companies."