ISO 26262/IEC 61508 Qualification by TÜV NORD: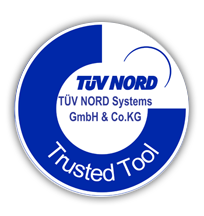 Minimal customer qualification efforts up to ASIL D/SIL 3
Compliance functionality includes:
Automated workflow control (fully customizable)
Forensic-level traceability linking
Comprehensive automated artifact history
PDF and other documentation outputs
Automotive Solution Highlights:

Real-time collaboration via one centralized tool with 100% browser-based access
Online "easy-as-Word" authoring of documents with granular work items
Exchange through Polarion Round-trip™ for Microsoft® Word/Excel®

Bi-directional linking, impact analysis and automatic change control
Framework to reach higher SPICE and CMMI levels quickly
Polarion ALM qualification by TÜV NORD

Model driven development with Polarion's Diagram Editor
Sparx Systems Enterprise Architect™ for UML
Integration with MATLAB® Simulink®; built-in ReqIF

Agile development via automotive project templates with full traceability
Software as driving factor with support for unlimited, fully linked Variants
Intuitive workflow drives fast adoption and low IT costs, further reducing TCO*
*Lowest Total Cost of Ownership (TCO) in the market, per customer feedback

See Automotive Solution Details
Next Steps:
Get Template: ISO 26262 Template - Hazard Analysis and Risk Assessment according to ISO 26262 Part 3
Schedule Online Demo: Schedule a Demo by an Automotive Expert
Try Now: Try for 30 Days Online or in Your Environment
Customer Examples:

"Polarion´s ISO 26262 qualification will save us a great deal of effort and cost in our own qualification process. We leverage Polarion´s ALM solution across our complete development lifecycle for requirements tracking, release packaging, test results, and full traceability coverage for vehicle hazards ISO 26262."
"Polarion's recent integrations with MATLAB® Simulink®, Klocwork's and others show a real deep understanding for their target markets."