Polarion
®

ALM™
The Unified Application Lifecycle Management Solution
Unlock synergies across all collaborators in software, product, and embedded system development environments throughout the lifecycle and across projects, accelerating time to market while protecting quality in today's complex development environments.
"Easy-As-Word" Documentation
Online Without The Limitations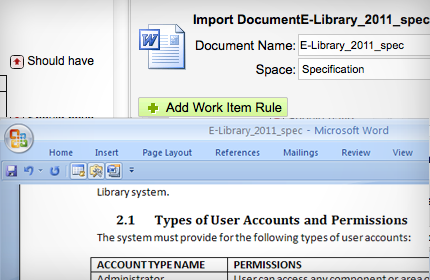 Leverage existing Microsoft® Word/Excel® documents bringing them into the intuitive online environment with Polarion's patented Import Wizard™.
Enjoy "Easy-As-Word" functionality and real-time collaboration online with patented LiveDoc™ functionality, plus mark work items as uniquely identifiable, traceable, and Workflow-controlled.
Create diagrams right in the browser, and embed them in LiveDoc™ text and/or Work Items. Apply UML, Flowcharting, BPMN and more.
Easily establish links, automate suspect linking, plus manage and correct links centrally via advanced matrix views.
Also link external artifacts including MATLAB Simulink® models, Enterprise Architect® UML, as well as Git, SVN, or Perforce source code.
Facilitate external review, with changes outside of Polarion imported back with the original traceability in tact via patented Polarion RoundTrip™.
Automate Impact Analysis
and Proof of Compliance
Establish comprehensive multi-directional traceability from requirements, to source code, to reuse at the granular work-item level.
Automatically generate audit trails through linking of related work items within and across projects throughout their lifecycle.
Save time and avoid costly errors by setting up change management automation and propagate changes instantly or on demand.
Instantly assess the impact of change across all related requirements, test cases, release timelines, resource allocations, etc.
Ease prove of compliance across most standards including FDA, FAA, ISO, SPICE, CMMI, IEC, CPI etc.
Leverage qualification as Trusted Tool by TÜV Nord for ISO 26262/IEC 61508 to speed up compliance processes.
Leverage Existing Assets Across Projects Effectively, Pleasing Your Regulators
Accelerate document reuse within and across projects while eliminating the risk of un-synched changes caused by copy-paste duplication.
Version documents for highly efficient Variant Management with patented LiveBranch™ functionality.
"Visual Diff": Compare documents via change highlights
"Time Machine": Browse, search and report any historical state
Trusted Tool by TÜV Nord spans Reuse and Version Management processes supported by Polarion.
Accelerate Cross-Team Information Exchange via Real-Time Transparency and Notifications
Enable real-time communication between Analysts, Engineers, QA Members and DevOps Teams etc. via threaded discussions, wikis, polling, alerts & more.
Leverage native ReqIF round-trip and MATLAB Simulink integration for lossless information exchange and comprehensive traceability.
Automate event monitoring and change notifications plus push important information to collaborators via "My Polarion" dashboards.
Streamline formal approval processes via the "Approval Center" and CFR 21 Part 11 compliant e-signatures.
Keep track of how decisions were made with the fully-automated collaboration history presenting complete audit trails.
Automate Your Processes, Whether Agile, Waterfall, Regulatory, or Hybrid
Get started quickly with a wide range of templates out-of-the-box and rapidly configure them for your processes, delivering both agility and compliance.
Manage work items via workflows that enforce how they move from state to state based on definable rules, with full audit trails, electronic signature and security.
Accelerate development through automation via conditional assignments, notifications and fully linked external information exchange.
Reduce routine manual work, and prevent errors, with workflow-driven change management at the document- and work item level.
Proof compliance with industry standards including FDA, FAA, ISO, SPICE, CMMI, IEC, CPI and many more via automated processes.
Optimize Planning and Prioritization plus Achieve Release Planning Accuracy
Start quickly with a variety of templates that you can easily map to your specific planning processes.
Automatically create plans by assigning tasks and estimates to milestones, including time-boxed release-, iteration-, and sub-plans.
Drag-and-drop, or set up multi-level prioritization with auto calculation from sub-levels using change hooks.
Optimize project planning and release predictability via automated time tracking where actual time is logged at task completion.
Know exactly where projects stand based on real task completion data, and drill up to review organization wide cross-project plans.
Compare plan progress real-time against team capacity and ideal progress metrics with Live Dashboards and a "LivePlan".
Specify, Manage, Execute and Track Test Cases Collaboratively In One Environment
Easily create or import test cases from a wide variety of 3rd party apps, and link them to corresponding work items.
Fully automate the running of test scripts and reporting, and create tasks for developers based on test failures, using workflow triggers.
Manage quality across testing projects, teams, tools and locations throughout the lifecycle and review results from any browser-enabled device anywhere anytime.
Bi-directionally synchronize test cases between Excel™ as well as HP Quality Center® and Polarion.
Automate Test Case integration with 3rd party testing tools via Open API, auto-run via Builds, import-ready for any test results in xUnit file format.
Streamline Risk Assessments,
plus automate Verification and Validation (V&V)
Accelerate risk assessments with pre-configured project templates that are fully customizable, including support for FMEA worksheets with real time analytics.
Reduce the risk of critical bugs being introduced into the market through backward traceability before product release.
Automate V&V procedures for products and systems over their full lifecycle:
Achieve Verification of compliance via comprehensive traceability, process automation, forensic-level accountability, and real-time reporting.
Achieve Validation of intended use with stakeholders via requirements review with electronic signatures and uninterrupted traceability from the start.
Accelerate Release Frequency
While Protecting Quality
Improve overall collaboration and process automation between Development and Operations and support reuse across projects.
Speed up compile and error recovery processes with mail notifications on build or test failures.
Quickly track down issues with complete audit trails of builds and releases.
Leverage Polarion's integration with leading tools such as Hudson, Ant & Maven
Leverage Real-Time Status Reports
For Better Decision Making
View any project status online real-time, including with mobile devices, and browse any historical baseline with exclusive "Time Machine" functionality.
Run reports across multiple projects to help coordinate activities across disparate teams, and use BIRT for reporting across multiple data sources.
View source code analysis to ensure security, reliability & maintainability, and process analysis to help you improve your process maturity.
Accelerate risk assessments with pre-configured project templates that are fully customizable and easily create your own reports.
Automate event monitoring and change notifications plus push important information to collaborators via "My Polarion" dashboards.
Leverage any of the reporting extensions available on the Polarion Extensions Portal.
Leverage Out-Of-The-Box Integrations and Open APIs to Extend Functionality
Quickly expand functionality via the Polarion Extension Portal
Certified integration with popular 3rd-party solutions including:
HP Quality Center (software testing and test management)
Atlassian JIRA (defect tracking and Agile project management)
MATLAB Simulink (hardware design and modeling)
Sparx Enterprise Architect (UML modeling, model-driven design)
Cooperative extensions with a growing list of strategic partners including:
Klocwork (source code analysis)
Loadster (load and performance testing)
OpenMake (DevOps)
Build your own extensions with Open Java and Web Services APIs.
Connect with almost any external solution in collaboration with Polarion Professional Services.
Use Native Clustering For Load Balancing and Failover Strategies
Enjoy a 100% browser-based solution that grows with you.
Use one or multiple servers (physical, virtual, or combination)
Native clustering delivers:
Unique unified architecture with versioned storage
Failover strategy
Load balancing
Source code repository distribution
Polarion® ALM™
The Unified Application Lifecycle Management Solution
Accelerate Innovation: Unlocking synergies across all collaborators & support
contextual planning, full tracking, and real-time reporting.
Learn More or TRY NOW
Polarion® REQUIREMENTS™
The Complete Requirements Management Solution
Accelerate Collaboration: Effectively coordinate and track all requirements
management activities to advance business objectives.
Learn More or TRY NOW
Polarion® QA™
The Unified Test Management Solution
Accelerate Integrity: Effectively coordinate and track all test and quality management
activities with real-time visibility & versioning.
Learn More or TRY NOW